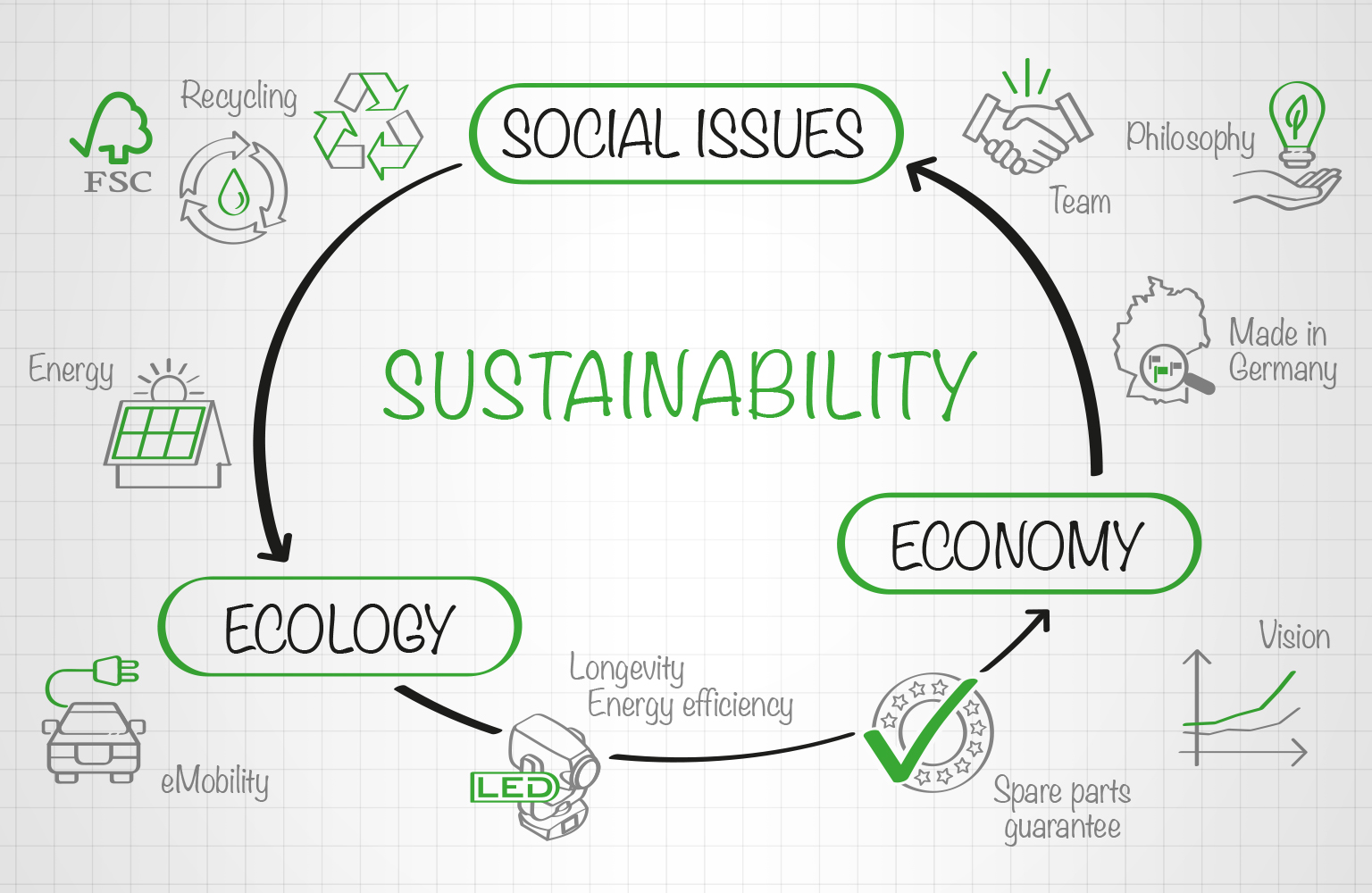 Anyone who really wants to go down a sustainable path with their company is not guided by a trend or by the increased external interest, combined with the "compulsion" to give this topic the necessary importance. Rather, sustainability must be an inner drive – an ideology which, as at JB-Lighting, has been deeply rooted in the entire company since its foundation.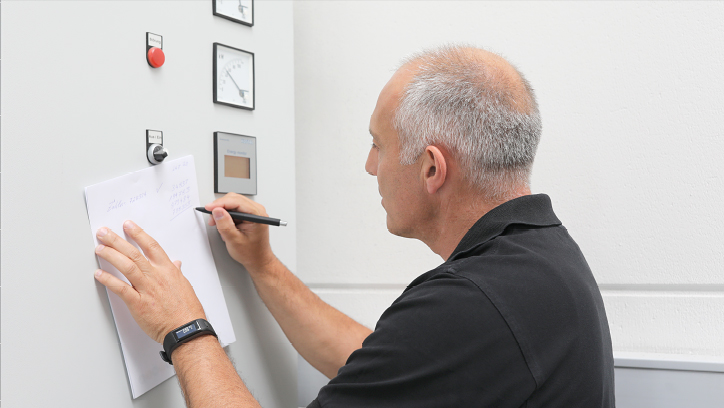 CO2-neutral
self-sufficiency
For more than two decades, we have been focusing on the supply of self-produced PV electricity and the use of district heating ...
Proven service and
product quality
JB products are explicitly designed for long-term use – with a range of services far above the market standard ...
Long-term employee
retention
Satisfied and long-standing employees and modern workplace concepts are the result of sustainable business management at JB ...
Environmentally friendly and
contemporary
Characteristics and JB specifications that also play a decisive role in shaping our information resources and advertising materials ...
Environmental awareness
years of this ideology
Electrical power supply
kilowatts of PV electricity / year
Service water supply
litres of rainwater / year
Use of district heating
litres of fuel oil savings / year
As early as the planning and construction of our first own premises in 1990, we sent out a clear signal for more sustainability in environmental protection – by using natural resources as sparingly as possible and by maximising personal responsibility, ecology and self-sufficiency. For example, the first photovoltaic system was incorporated into the new-build. JB-Lighting now has a PV system capacity that generates more electricity per year than is needed for the entire production at JB-Lighting. So, it should be no surprise that eMobility was introduced at JB years ago and that there are currently several vehicles with electric or hybrid drive in the fleet.
Furthermore, rainwater is collected in a 200 m³ cistern (200,000 litres), which covers the entire service water requirement. In addition, all rinsing processes in production, the washing machine and the garden irrigation are carried out with cistern water. JB-Lighting not only saves clean drinking water, but also heats in an environmentally friendly way. The waste heat of a neighbouring biogas plant is used for this and is completely CO2-neutral.
In addition to the use of natural, regenerative energies, we want to contribute to the ecological balance with an extensive reuse and recycling concept.
SUSTAINABLY SAFEGUARDING RAW MATERIALS
---
We can reduce production waste to a minimum as a result of optimised planning. In addition, at JB, the resource-saving and responsible handling of raw materials includes the separation and collection of all kinds of "waste" – including old equipment that we take back, dismantle into individual parts and then recycle externally.
Among other things, we collect glass, aluminium, steel, waste wood, cardboard boxes/paper, batteries, electrical scrap and data carriers such as CD-ROMs, residual waste etc. and pass this on to external partners for professional recycling – organic waste is composted at JB.
Sustainable product development
We only develop and produce moving heads with innovative LED technology that offer our customers worthwhile, demonstrable advantages and genuine added value. Highly effective, energy-saving LED spotlights that are extremely quiet, durable, powerful and equally easy to use.
In other words: Highly efficient high-tech products in premium quality that rightly deserve the title "Made in Germany". We make no compromises when it comes to materials, design and workmanship quality, which is one of the main reasons behind the outstanding performance of our products.
Lasting product and service quality
We are not known for flooding the market with "similar" devices that are not significantly different from one another and cannot really be repaired. On the contrary: Our moving lights have been in use for many years and are constructed in such a way that they can be easily repaired and cleaned by our service staff or even by yourself. That's why nothing is riveted in our products, everything is screwed together. As manufacturer we can guarantee a spare parts availability of 10 years. We can also produce older spare parts on request – no problem!
Regionality is our trademark
JB-Lighting is based in Wippingen/Blaustein near Ulm – this is our home. An innovation region with which we identify and with which we are strongly connected. This is where the roots of the majority of our employees and suppliers are to be found. Long-term partners within a radius of 50-80 km, who manufacture the components that we do not produce in-house.
This is not only a sign of regional solidarity. We benefit from extremely short coordination processes and supply chains. In addition, our environment is polluted with less CO? due to the relatively short transport distances.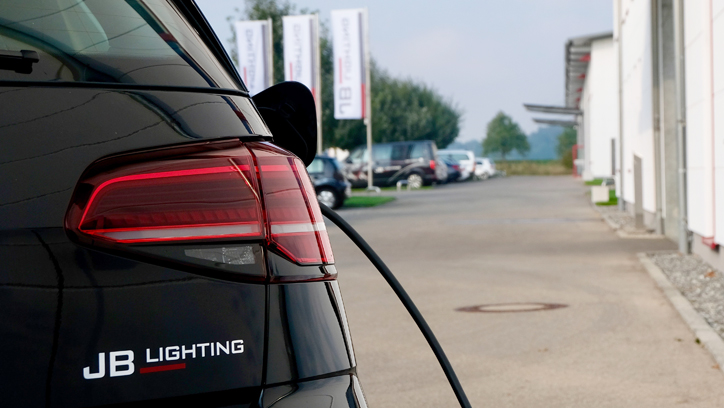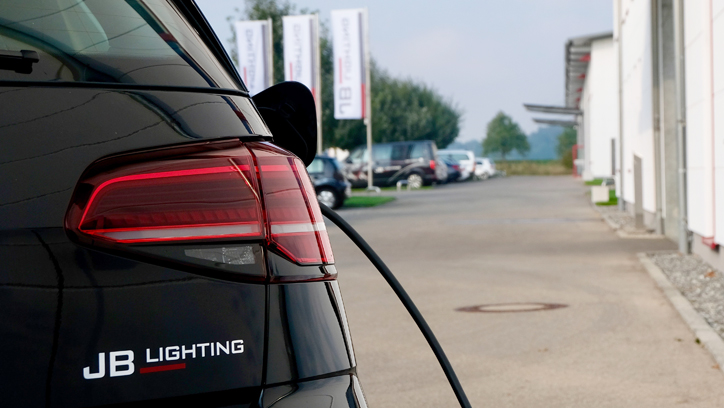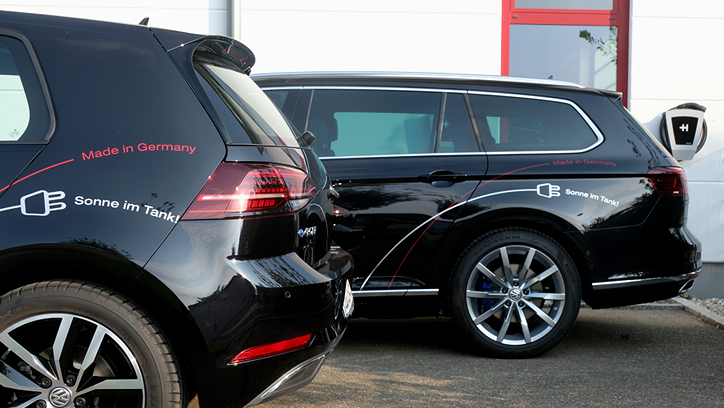 On the move with the environment in mind
At JB, it is not just because electric vehicles are as quiet and energy-efficient as our moving heads that we are into e-mobility. It has much more to do with us wanting to dispense with fossil fuels wherever possible and stand up for considerate practices using natural resources. What began around 10 years ago with one vehicle has therefore developed into a fleet of nine electric vehicles and one hybrid over the course of the years. These are refuelled of course using two charging stations and power from our photovoltaic system.
Sustainable growth with sense and reason
Sustainable growth is often equated with a continuous increase in sales or profits. Instead, we want to do business sensibly, invest in our strengths as well as in our location, and grow and continuously develop in our tasks. Short-term dearth of profits is a dead-end street that we do not enter. Because despite all economic constraints, our corporate values and employees, product and service quality always have priority and are not allowed to fall by the wayside.
RESPECTFUL DEALINGS WITH EACH OTHER
---
JB-Lighting is successful because we simply have the right working atmosphere and all employees, suppliers and partners are equally rewarded and valued in a fair, performance-related manner. In addition to the social and financial aspects, we attach particular importance to treating each other with respect and always seek open dialogue.
Satisfied employees are the basis for sustainable company development. Our employees should feel comfortable with us, enjoy coming to work and for that reason can find modern and clean workplaces waiting for them, well illuminated with a good proportion of daylight. Numerous common activities ensure that there is fun to be had too.
SWABIAN VIRTUES EMBRACED
---
We consciously embrace the "Swabian thriftiness and down-to-earthness" in our day-to-day lives. Not out of any sense of penny-pinching, but rather out of foresight and a healthy assessment of what is necessary and what is not. Our income should form the basis for sustainably fulfilling our idea of social responsibility towards our fellow human beings.
Our goal is therefore not to permanently depress our suppliers' prices, because we can only supply high-quality products if all parties involved earn money in turn. In fact, we want to continue to invest wisely in employees, technologies, in-house production and other "green" activities in order to maintain the necessary independence and flexibility.

Keeping an eye on the big picture at all times
At JB-Lighting, we are fully committed to sustainability and we consistently pursue the goal of using natural resources and raw materials as sparingly as possible. This naturally includes scrutinising the sustainability of all past and future measures and investments, and always keeping the big picture in mind. Because no matter how inconspicuous the individual contributions may be, in combination they will contribute to the attainment of our goals.
Digital documents and manuals
Providing sustainable information does not just mean being constantly up-to-date; it essentially means addressing the information as directly, quickly and clearly as possible. We have plenty of digital channels available for this with our website, app, social media presence and
newsletter
- channels that cannot be operated without the use of electricity. This requires energy and resources that we want to save elsewhere, which is why we avoid printing manuals and other resources. These can be downloaded using the QR code on the base plate of the Movinglight, or
here
on our website.
Environmentally friendly printed products
Yes, they do exist - and that is a good thing. On the one hand we opt for certified types of paper; its production sees three new trees planted for every one that is felled. This is so-called FSC paper, which we use exclusively for our printed products such as brochures, business stationery, etc.
We also work with regional print shops who use ecological printing inks and lacquers and avoid all chemical additives for plate exposure.
Ecological advertising with added value
When it comes to our promotional materials, we focus on meaningful, high quality and environmentally friendly products: For example, our ballpoint pens (which have an innovative sheath that saves 60% plastic and also consist of 30% recycled own waste) are produced in Switzerland with the help of renewable energies. Our cups come from the Black Forest and are made from renewable raw materials and natural resources. We do not use petroleum in the production of our cups. And we can even snack with a clear conscience. Our jelly bears are vegan, the bag is compostable and is printed in a climate-neutral way.
YOU ARE ALWAYS WELCOME
---
If you would like to see for yourself what we at JB-Lighting understand by sustainability and would like to visit us, please make an appointment – we would be delighted to welcome you.
90 JB-Lighting Moving Heads at the Para Championship Europe.
The first edition of the European Para Championships took place from August 8 to 20, 2023. This event occurred in Rotterdam