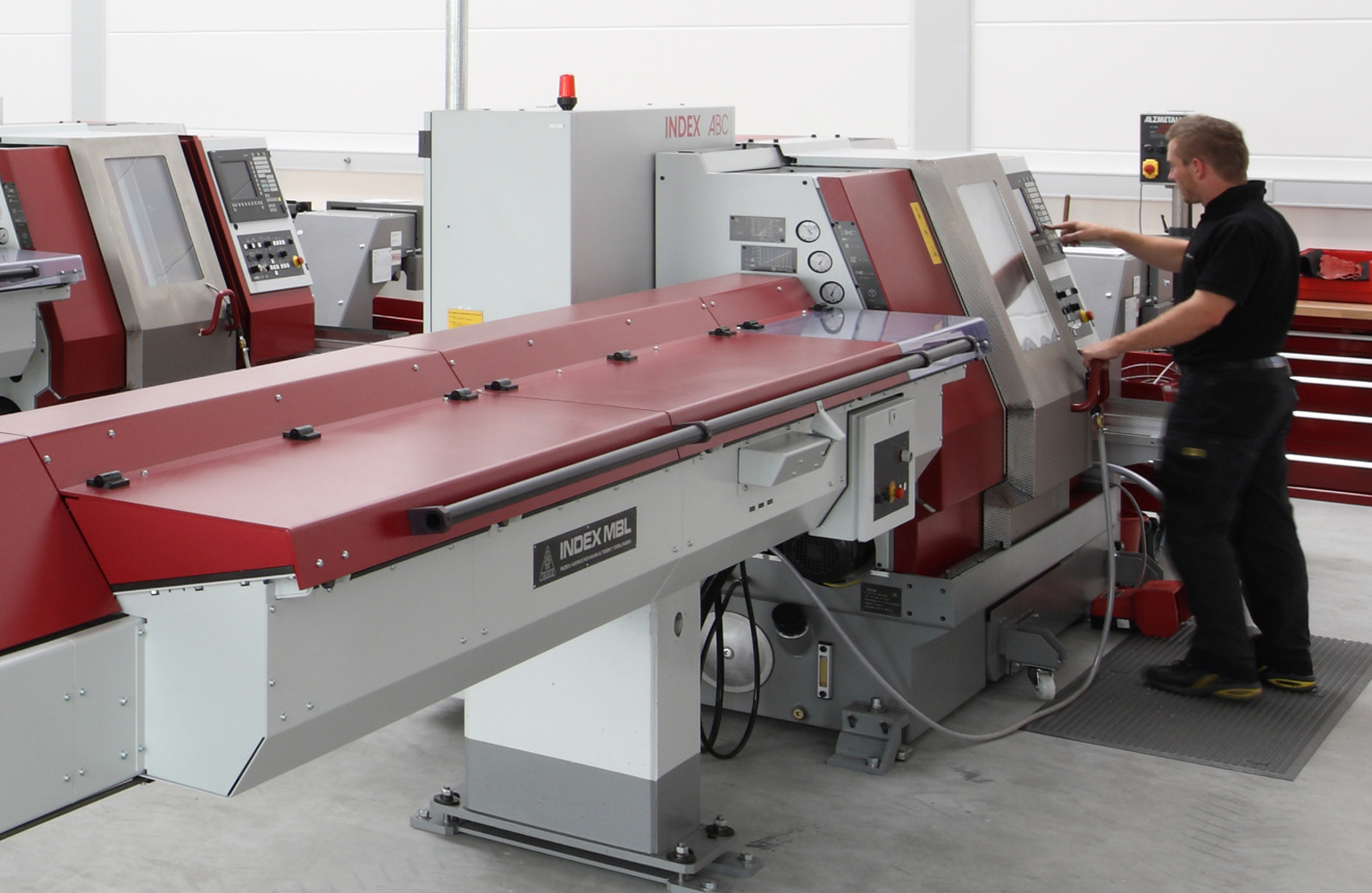 EVERYTHING IS FIRMLY IN JB'S HANDS!
---
From development to series production
Unlike many other companies, we have gone the furthest in incorporating the individual production steps in our production process. JB-Lighting is the only manufacturer in Germany that independently develops intelligent moving lights with LED technology for professional use – on approx. 2,500 m2 of production space – and manufacturers everything in-house except for a few components. We don't just do the final assembly on site, but all the related steps in manufacturing – from development and design, to prototyping, mechanical series production, and further processing of electronic parts.
No compromises in quality, performance or efficiency
All steps in work and production are always completed with a quality and function check of the manufactured parts, so that any potential defects are virtually excluded in the preliminary stages.
Due to the continuous upgrading and flexible construction of our entire production facility, we are not only able to manufacture in a very demand-oriented way, but also react to trends in the lighting industry with flexibility at any time, act independently of suppliers to the greatest extent possible and promote our developments.
With JB-Lighting, "Made in Germany" is guaranteed
Because we best meet our quality standards with our own well-trained staff, we decided to carry out as many production steps in-house as possible. While the final assembly and a limited manufacturing facility had already been incorporated at JB-Lighting from the beginning, other departments were established and expanded over the course of the last 20 years.
This means we're in a position to effectively meet our standards and your requirements regarding design, excellent technology, functionality, processing, performance and service life.
Short paths and decision-making processes throughout the entire production operation
We are therefore able to determine the most effective paths to production for a spotlight in advance. For this reason, we can offer our products in a price segment that is not a matter of course for German brand-name products.
This has allowed us to develop a solid and satisfied customer base whose feedback is vital for further developing our products.
In the following, there is an overview of our departments and the respective production steps. Comprehensive quality and function tests are carried out at the end of each manufacturing process.
DEVELOPMENT
Work steps from the initial ideas to the prototype
Project studies, market and requirements analysis by our development team
Development and design of mechanics, electronics and unit design by experienced engineers and technicians with the aid of modern CAD software/hardware
3D simulation and calculation (CFD program)
Development/programming of unit software
Extensive tests in our in-house testing lab up to series production and CE certification
In-house prototype construction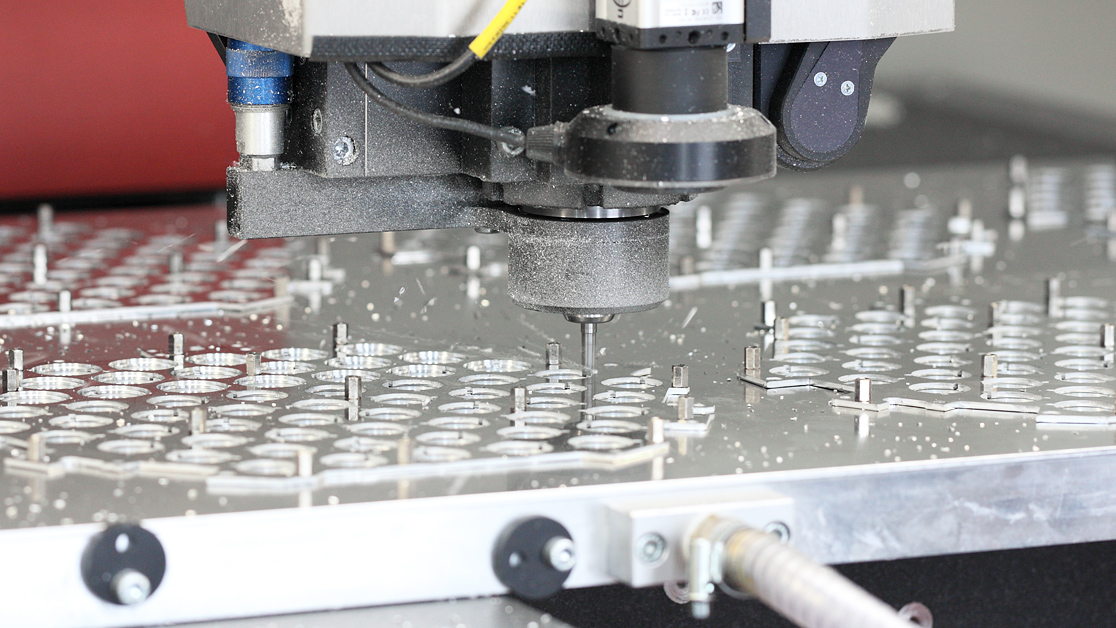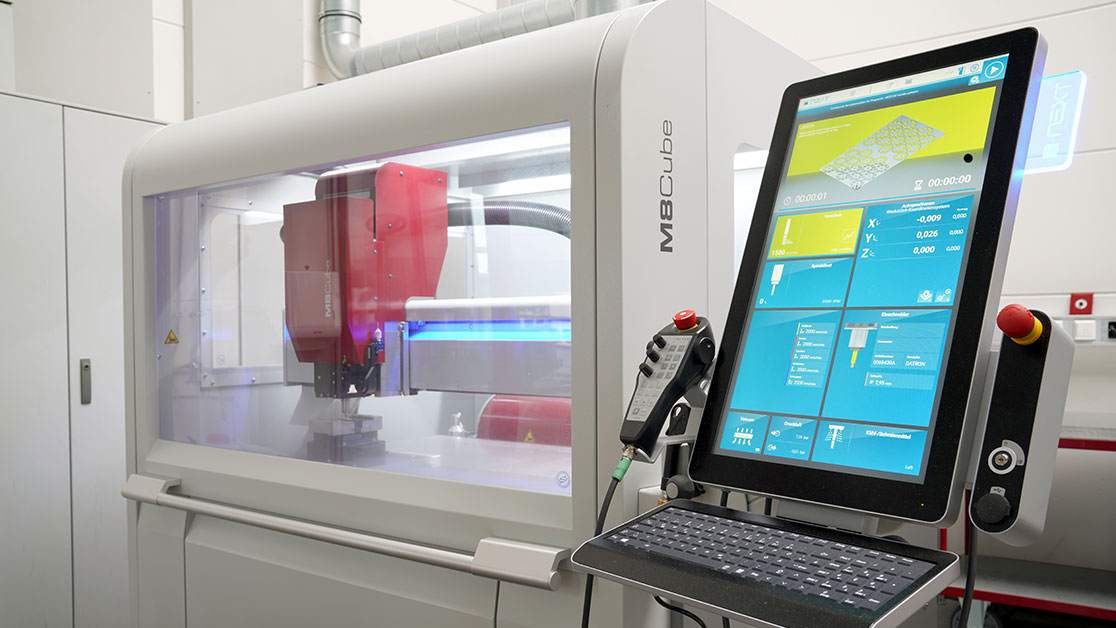 MECHANICAL PRODUCTION
Work steps in the turning shop
Programming/equipping of metalworking machinery
Manufacture of rotary parts made of plastic, steel, aluminium, brass
Manufacture of gears for series production
Mechanical cleaning of sheet metal parts as preparation for further work steps, e.g. bonding
Work steps in sheet metal shaping
Stamping and straightening of sheet metal parts
Pressing in insertion tools such as nuts, bolts, sockets, etc.
Edges
Embossing
Regrinding of punching tools
PCB ASSEMBLY
SMD assembly
vapor-phase soldering
Assembly of displays
Soldering on cables
Import of software
Quality control
Each board undergoes a visual inspection and a final function check on the test board
CABLE ASSEMBLY
Assembly of different cables
Stripping and crimping of different connectors
Configuration of complete wire harnesses for final assembly
Tinning quality control
Testing the manufactured crimp and plug connection
MANUFACTURE OF GOBOS AND COLOUR PANELS
Gobo manufacturing for series production
Lasering of dichroitically coated colour discs
Laser marking of sheet metal parts
Quality control
Visual inspection
Examination of dichroic filters for colour deviations
FINAL ASSEMBLY
Commissioning of all necessary parts for assembly
Manual assembly of lights by riveting, screwing, gluing, and soldering
Packaging in cases or cartons
Quality control
Multi-hour functional test of each completed unit
Colour balance according to reference product
Measurement of the insulation resistance
Measurement of the earth resistance
BRIEF PROFILE - HOW IT ALL BEGAN
---
Since 1990, JB-Lighting has been developing, designing, and producing intelligent spotlights and lighting technology solutions at Blaustein in southern Germany. Everything began with company founder Jürgen Braungardt's fascination with mirror scanners. The technology, which was brand new at the time, combined complex mechanics and analog (later digital) control and inspired Jürgen Braungardt to develop his own
spotlights.
Then as now, the focus was always on developing reliable and user-friendly products. So it's not surprising that many spotlights which left our factory many years ago to be used in discos, clubs, bars or on live stages are still in use today. JB-Lighting opened a new chapter in lighting technology in 2005 and presented the VaryLED 3*84, the first stage-ready LED-based washlight, combining all the benefits of LED technology, such as flat design, low power consumption and long life. This made JB-Lighting a pioneer and trendsetter in a market segment that is now the focus of virtually all well-known manufacturers.
LED technology is still a big challenge and our development department is constantly working on other exciting products. But it's not about using LEDs because they're 'hip' or promise good sales. On the contrary, the benefits of LEDs should really come into play. JB-Lighting is also well prepared for the future. Jürgen Braungardt and his team of committed and extremely competent employees consistently pursue the goal of further establishing JB-Lighting as a premium manufacturer, developing innovative products and modern tools, without any compromise in terms of service and customer proximity.
JB MILESTONES
Since the founding of JB-Lighting, we have been a pioneer and driver of innovation in LED-based moving light systems at the same time, developing technical markers and milestones as a premium supplier.
1990
Foundation of
JB
-Lighting by
J
ürgen
B
raungardt
Until 1999 –
1999 – manufacture of scanners and colour changers under the brand names Varyscan and Varycolor, already with JB typical plug-in technology.
1998
Acquisition of Swiss distribution
Adrian Walther, CEO of the company Light Design Eventtechnik AG, will be responsible for the distribution of
JB-Lighting
in Switzerland.
2000
Development and production of the first generation of moving lights and the "Licon" light mixer series from JB-Lighting.
2005
VaryLED 3*84
The world's first stage-ready LED-based washlight goes into production
2008
JBLED A7 Washlight
World's first LED-based washlight with optical zoom system.
Winner of
"Plasa Award for Innovation"
and recognised by the jury as "the founder of a new era".
2010
Relocation to the new production hall, which tripled the production area.
2011
Winner of the
"Showtech Product Award 2011"
in the "Lighting & Projection Technology" category
2013
Raphael Kündig will be handling support and service
Raphael Kündig joins Light Design and takes over the support and service for the devices of
JB-Lighting
.
2016
Varyscan P7 – LED CMY SPOT
World's first LED-based moving light with CMY colour mixing.
Winner of the "pipa Awards 2017"
2018
JB-Lighting Distribution Switzerland was born
The brand JB-Lighting Distribution Switzerland is being created. The operational business of Light-Design and JB-Lighting Distribution Switzerland are separated. Raphael Kündig becomes sales manager and is responsible for the entire operative business of JB-Switzerland.
2020
Set off on a journey through time into the production history of JB-Lighting – from the first color scanner in 1990 to the moving lights of the recent past.
PERSONAL AND COMPETENT ADVICE!
---
If you're interested in our products, have further questions or need our support – our team looks forward to your call and will be happy to advise you.
90 JB-Lighting Moving Heads at the Para Championship Europe.
The first edition of the European Para Championships took place from August 8 to 20, 2023. This event occurred in Rotterdam