ON STAGE, BACKSTAGE AND ...
---
the most important points at a glance
Peitsman Licht & Geluid has invested in the moving heads P9, P12 and P18
The products from JB-Lighting are of high quality, with proverbial German quality.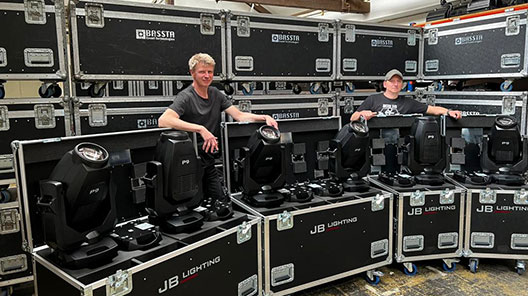 Light, fast, slim design
BASSTA Event Technologies invests in twelve P9 beamspots
Stadtcasino Basel invests in six P12 HP
For our concert halls we were looking for powerful and multifunctional moving lights, which not only have to be
WIRKUNG live further invests in moving lights from JB-Lighting
Summer 2022 is going to be hot: it is already clear that a high level of utilisation is to be expected. In order to be able
IMPRESSIVE IN EVERY RESPECT!
---
Light solutions at their best
High-powered moving lights from JB-Lighting – the only manufacturer of intelligent light systems to develop and make its quality products solely in Germany. Your star ensemble for professional lighting effects and stage lighting –
made in Germany
.
Professional service
---
in Germany and Switzerland
Not only in Germany, but also in Switzerland, we have been doing our best to offer you the highest level of service for LED-based moving light systems for over 20 years now.
Your number 1 contact person for all service needs in Switzerland is Raphael Kündig, who has been part of JB-Lighting since 2013 and sales manager of JB-Switzerland since 2018.
From consulting to demonstration, sales and aftersales service, JB is the right partner for you - no matter what you need support with. A good service is a matter of fact for us: short lead times, competent advice and a fast technical support and spare parts supply are just some of the aspects that ensure an excellent price-performance ratio with us.
Your Contact Person

Raphael Kündig

Sales manager

+41 (0)32 391 60 79
raphael.kuendig@jb-lighting.ch
JB-LIGHTING TEAMWORK
---
Experience. Vision. Passion.
JB-Lighting has been developing, designing and producing
intelligent spotlights
and lighting technology solutions in Blaustein near Ulm for more than 30 years, with a team of utterly skilled professionals.
JB-Lighting is also a trendsetter, distinguished many times over for innovations in LED-based moving light systems, regularly marking accomplishments and
milestones
in development as a premium provider.